DRagunov SVD
Type Sniper rifle
Place of origin Soviet Union
Service history
In service 1963–present
Used by See Users
Wars Vietnam War, Soviet war in Afghanistan, Iraq War, Yugoslav Wars, Second Chechen War
Production history


Designer

 Evgeny Dragunov
Designed 1958–1963
Manufacturer Izhmash, Norinco
Produced 1964–present
Variants See Variants
Specifications
Weight 4.30 kg (9.48 lb) (with scope and unloaded magazine)
4.68 kg (10.3 lb) (SVDS)
4.40 kg (9.7 lb) (SVU)
5.02 kg (11.1 lb) (SWD-M)
Length 1,225 mm (48.2 in) (SVD)
1,135 mm (44.7 in) stock extended / 815 mm (32.1 in) stock folded (SVDS)
900 mm (35.4 in) (SVU)
1,125 mm (44.3 in) (SWD-M)
Barrel length 620 mm (24.4 in) (SVD, SVDS, SWD-M)
600 mm (23.6 in) (SVU)

Cartridge 7.62x54mmR
Action Gas-operated, rotating bolt
Muzzle velocity 830 m/s (2,723 ft/s) (SVD, SVDS, SWD-M)
800 m/s (2,624.7 ft/s) (SVU)
Effective range Up to 800 m sight adjustments for point targets
Maximum range 1,300 m with scope
1,200 m with iron sights
Feed system 10-round detachable box magazine
Sights PSO-1 telescopic sight and iron sights with an adjustable rear notch sight
Yang seneng maen PB pasti tau nih..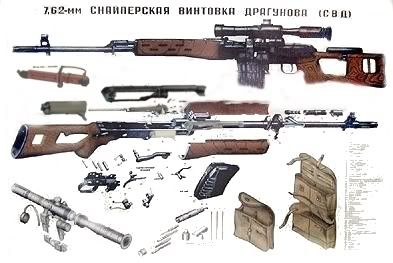 Desain
SVD adalah senjata
jenis
semi-automatic gas-operated rifle. SVD awalnya memiliki furnitur (popor, pegangan belakang, dan pegangan depan) yang terbuat dari kayu yang terlaminating. Lapisan
laminating
ini selain
agar
terlihat lebih bagus, juga untuk melindungi kayu yang dilapisinya. Namun ini memiliki kelemahan apabila musuh memiliki night vision. Kayu SVD ternyata menyala kuning terang bila dilihat melalui teropong night vision.
| | |
| --- | --- |
| | This image has been resized. Click this bar to view the full image. The original image is sized 800x529px. |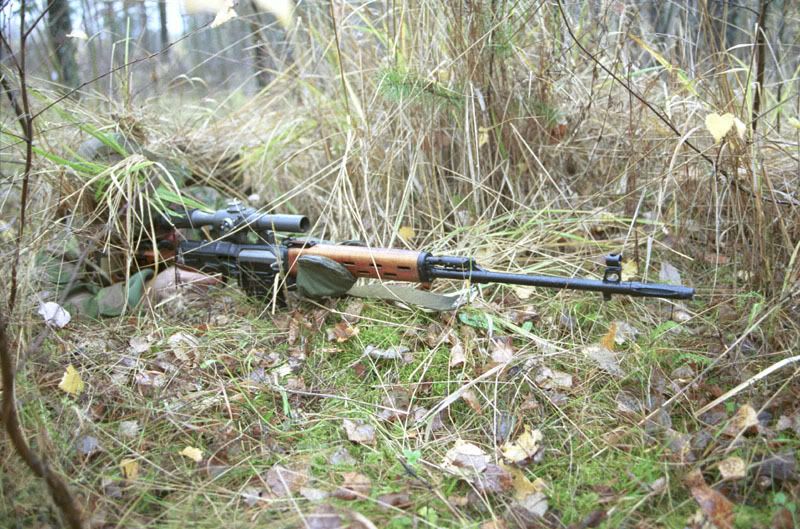 Pada masa Uni Soviet, setiap regu diberikan satu SVD. Prajurit yang dipersenjatai SVD biasanya sudah mendapatkan pelatihan khusus untuk memakai senapan ini. Prajurit ini bergerak bersama-sama dengan regunya dan dimaksudkan untuk menambahkan jarak jangkauan mereka sampai 600
meter
.
SVD digunakan lebih dari 30 negara di dunia.